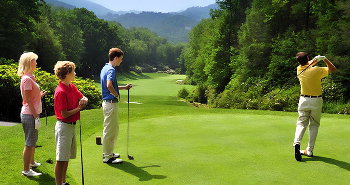 Mark Twain once put it that playing golf was 'ruining a walk in the park' but this sport has millions of followers all over the world, not forgetting players. Plus over 30,000 golf courses worldwide, making this sport a phenomenon. So why is this so game popular?
Golf's Gifts
Some say that golf is a combination of two key things that people love to do those – walking long distances for pleasure and also sports that involve hitting things with sticks. This game offers players many benefits possibly one of the most important of which is that golf provides a way to escape from the hassle and bustle of the modern life where everything is a rat race.
Lifes enchanting gifts such as fresh air, fantastic natural scenery and the vistas cannot be overstated and this game provides all these gifts with abundance. Golf is also environmental friendly in that the courses provide a certain wilderness of sorts right in the urban areas which is both beneficial for the community and ecologically.
For those who are looking for exercise, the game is a great way to achieve body fitness since all the walking helps the heart and also relaxes the body muscles. It is a great way of conditioning both your body and mind and helps the lungs as well as the heart.
The game offers a stage for people to compete with each other. Whether you are against yourself or your peers, the player always wants to play more and thus there is the everlasting quest for technical perfection which is a powerful motivator to keep on playing. The game is an indulging sport since it offers players and fans a favorable pace that allows conversation. This means that you can have a conversation with players especially in business where the game has been known as a deal maker among business associates.
Golf's Pleasures
Like so many other enthusiasts, this is a game of choice and one can play as often as possible because as many would say the game fills the many holes in ones life – excuse the pun :-).
One explanation why the game is so popular is that it is available everywhere. Most cities and towns offer golf courses for your enjoyment and also make the game a wonderful vacation experience, especially if you are a player who travels a lot. This game is an inclusive sport and all men, women and children play and enjoy it to the fullest. It also makes it a great activity for the family and also helps to create stronger bonds between family members, friends and staff.
The game is also popular because it can be played during the day or at night and many courses offer well lit areas and thus anyone can book tee times for twilight play – a favorite time for many as the day cools into the evening.
Whether you play for the exercise, availability, timing or inclusiveness, golf is a fun game that is still gaining popularity.